Looking for an exciting summer helping kids stay safe and healthy? Working as a nurse or a nurse assistant at summer camps may be the job for you!
Keeping campers and staff safe and healthy is the responsibility of nurses at summer sleepaway camps and day camps.
Camp nurses provide many types of medical care for children that may include anything from colds and illness, burns and scrapes or broken bones. The duties of camp nurses are varied and may include:
Establishing and organizing health centers
Staff orientation
Providing clean first aid supplies
Managing communicable diseases
Creating action plans in the event of an contagious outbreak
Organizing and dispensing medications
Treating minor injuries
Communicating with the parents or family members of campers or staff
Frequent health checks
Ensuring the safety of everyone at camp
Accompanying the sick to medical appointments or hospitals
Keeping accurate medical records
Liaising with medical professionals
Enjoying summer camp!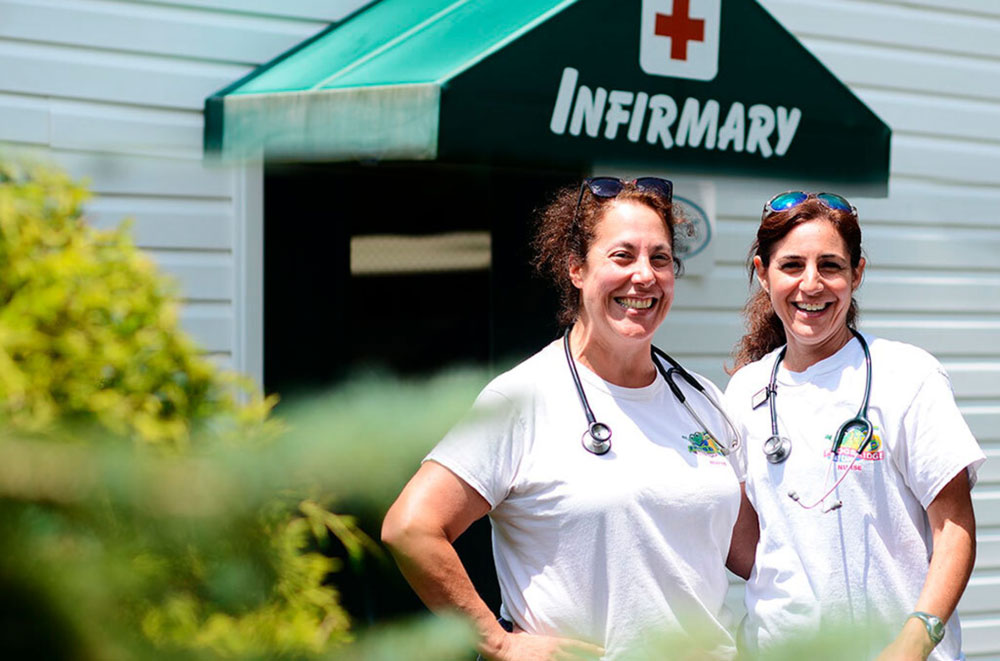 Nurses at camps must be able to assess medical needs very quickly. In addition to being confident in their abilities, they must be friendly and personable when assisting their patients. Having experience with the specific age groups the camp consists of is also beneficial to camp nurses.
Typical Summer Camp Nurse Job Requirements
Registered nurse (RN) or licensed practical nurse (LPN) certification preferred, but not always necessary
First aid, CPR and AED certification preferred
Experience in both pediatric and adult illness/injury care
Community health knowledge
Ability to multi-task
Flexible attitude with strong skills working in a team
Ability to work in a fast-paced environment
Friendly, empathetic attitude
Experience and passion for caring for children and young adults
Camp Nurse Salary
Typically, camp nurses can expect to make $1200 – $1500 a week during the summer, or around $5,200 for a typical 4-week session, and $9,000 – $11,000 for a typical 7-8 week session. Salaries depend on credentials and experience and vary from one camp organization to the next.
Typical Camp Nurse Job Benefits and Information
Begins in early-mid June, about a week before camp is in session, and ends when camp ends or just after, usually in mid-late August for a 7-8 week program.
Private room and full board
Travel stipend
Tuition credit option for camp aged children
*Nurses pursuing opportunities in various states should be mindful of state-specific licensure requirements. In the healthcare field, it's a common practice for nurses to obtain licensure in the state where they intend to practice. State licensure ensures that nurses meet the specific qualifications, standards, and regulations set by each state's nursing board. This process helps maintain the quality and safety of healthcare services provided to patients, regardless of the care setting. Therefore, nurses seeking employment in different states are advised to research and fulfill the licensing criteria of the respective state to practice legally and ethically in their chosen healthcare roles.
Quick Apply
Summer Camp Nurse and Health Care Positions
Fill out the short application below to submit your resume to our summer camp partners!